That's right, re-sign Jim Thome!!!!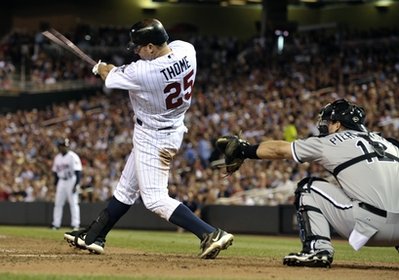 Even after the walk-off win last night, this is not an emotional reaction. Before his 10th inning walk-off HR put the Twins 4 games in front of the White Sox, Thome had proven to be a great pickup in 2010 and one of the best free agent signings in baseball.
It seemed Thome was getting near the end of the line in 2009. He posted a .249/.372/.493 line in 417 plate appearances with the White Sox, before finishing the season with 17 PH appearances for the Dodgers at a .235/.235/.235 clip. Near 40, Thome seemed to be almost done. After making $13 million in 2009, he had to accept $1.5 million from the Twins to be a part time player.
Well, playing part time is working for Jim! He has bounced back with a .273/.391/.593 line in 2010. After 434 plate appearances last season and 602 the year before, Jim has only 253 so far this season. At this pace Thome will reach about 354 plate appearances. Less at-bats may have kept Thome fresher. His 2010 numbers are actually ahead of his career averages of .277/.404/.557.
So, the Twins have to re-sign him right? Absolutely! Assuming he wants to come back.
In 2010, his HR/FB rate is 22.2%, his first year above his 20.4% career average since 2007. His walk rate and K/BB rate are also at 2007 levels. In 2007 thome posted a .275/.410/.563 line in 536 plate appearances. In 2008, Thome .245/.362/.503 line in 602 plate appearances in 2008. I'd expect a similar one year drop at his advanced age, even as a part-timer.
So, if Thome is expected to be somewhere in the .250/.360/.500 range in 2011 over 320 ABs, what is he worth? Another thing to consider, Thome has 581 career HRs and will end the year around 587. Does a 600th HR in a Twins uniform increase Thome's value?
After a bounce-back year, Thome and his agent won't accept $1.5 million again. I propose the Twins offer Thome arbitration. Making only $1.5 million in 2010, the most Thome would be awarded would be $5 million. Thome profiles as a borderline Type B free agent. Assuming Type B status, If he were to sign somewhere else (say, back with the White Sox) the Twins would receive a supplemental first round draft pick. Given his performance this season and predicted performance in 2011, $4-5 million seems fair. The Twins have other financial decisions to make such as what to do with Pavano and the bullpen, but given his leadership in the club-house and the impact his bat still has, this should be an easy decision. Thome is on record saying he likes it in Minnesota so he might come back for a little less.
The smartest free agent signing in 2010 should be brought back in 2011.